John-Henry Westen, Canadian Idiot
You can really just write anything on the Internet!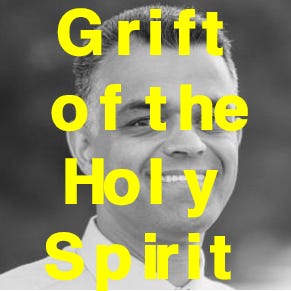 [If you are reading the email version of this piece, it may be truncated for length and you can read the full piece by clicking on the link in the title.]
In November 2019, LifeSiteNews sprang into action to flex its influence on the American Catholic hierarchy. As it reported, credible sources had confirmed that James Martin, a Jesuit priest and relatively (for a priest) liberal media personality was on the verge of being named the new Archbishop of Philadelphia, replacing the retiring archconservative Charles Chaput. Martin, along with Blase Cupich of Chicago and Joseph Tobin of Newark, would complete a cursed troika of Catholic archbishops working to "establish a powerful cabal to force the normalization of homosexuality and transgenderism within the Catholic Church in the United States", according to LSN, and his appointment had to be opposed at all costs. To underscore the severity of the situation, LSN ran the story with a low-resolution screencap of Martin flashing a Satanic hand gesture, or possibly just introducing Metallica as the musical guest on an episode of Colbert. In any event, LSN's dedicated readers bombarded the Apostolic Nuncio to the United States with messages and petitions, and Martin was never ordained to the episcopate.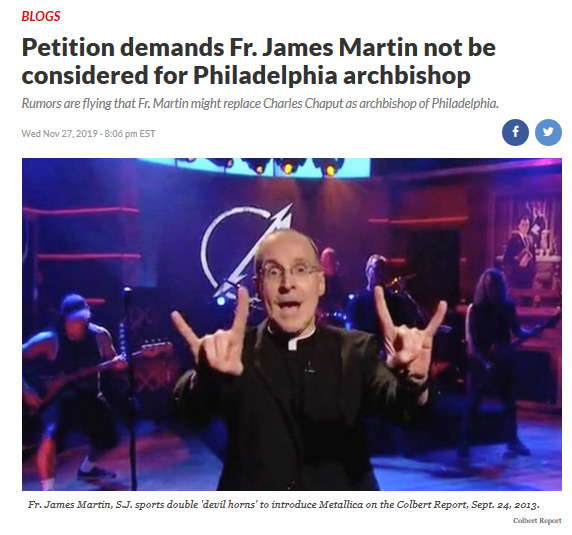 This is a powerful story about a Catholic community mobilizing to influence the church. The story is made slightly less powerful by the fact that James Martin was never seriously being considered for Archbishop of Philadelphia, and had never expressed any interest in ever becoming a bishop of any kind. Martin is a prolific author and media personality in the church; becoming a bishop is a completely different job where you have to manage pastor assignments and keep track of all of your out-of-court settlements. LSN never offered any evidence that the event they were organizing against was actually happening, and they never revealed their source after the fact to ensure their readers that they were doing anything other than kicking up outrage to get clicks, email addresses, and donations. Also, if you think the bishop selections of the Catholic church are influenced by petitions from the laity, I would point you to the previous two thousand years of church history.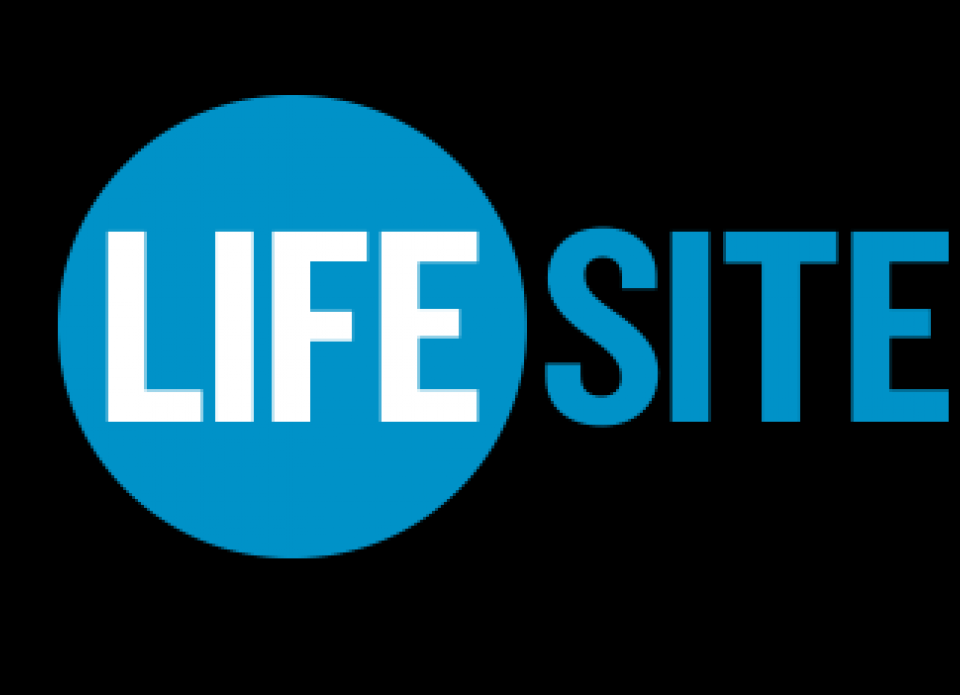 LifeSiteNews occupies a similar online space as Michael Voris and Church Militant in Michigan. Church Militant remains an unbelievably sloppy organization that's basically held together through the sheer force of Voris' bizarre personality. LSN is no less sloppy, although its founder, Canadian politician and devout Catholic John-Henry Westen, is perhaps a little more personally restrained, or at least harder to connect to Star Trek fan fic and anti-Semitic PDFs than Voris was. But what LSN and Westen lack in force of personality, they make up for in just writing whatever shit they want and passing it off as actual news, with a focus on abortion and LGBT issues, often in the context of Catholic church politics. There's even a specific Catholic "edition" of the site, although it's almost identical to the regular website.


Given the number of times that LSN has appeared on Snopes, if you ever see a LifeSiteNews story in your social media feed, you're probably safe assuming that the exact opposite of what is described in the story is what actually happened. You're on even safer ground when you learn about the horrifying criminal background of every man on the LSN masthead, which includes incidents of horrible violence and abuses stretching back three decades. Now, that last part is not actually true at all, but you see how easy it is to just post bullshit and pretend it's real?
Of course, LifeSiteNews is popular with the same crowd that thinks Taylor Marshall is a genius or Rick Heilman is brave. The weird girl from your college philosophy class is probably sharing their stories on Facebook right now. The site has grown rapidly in influence over the past decade, despite apparently never hiring a copy editor, and today it's a key part of the broader universe of online disinformation and hatred connected to the Catholic church. Oh, and this year the President of the United States shared one of their biggest stories and used it to claim that he had support from the Catholic hierarchy. So yes, this story is going to get very, very dumb.
CHAPTER ONE - ELEVATING VOICES OF P.O.C. (PEOPLE OF CANADA)
"In April 2016, multiple Facebook pages shared links to articles with titles claiming an "abortionist strangled [a] baby" following a botched abortion. The tendency of social media users to share items without clicking through to the content led many to believe that the link described a current event. Most of these links led to a 9 May 2013 LifeSiteNews article, which was three years old at the time of its April 2016 Facebook circulation. Nearly all versions included the same exact photograph of what appeared to be a full-term infant crying, an image dated to2014, was in no way related to abortion, and depicted a healthy baby boy, KarsonHanson. How Karson's photograph came to be linked to the story wasn't clear."

Our story begins, as most stories about Catholicism do, with the 1987 Ontario provincial elections. A local lobbying group called the Campaign Life Coalition, fed up with a decade of meager gains "against threats posed by abortion, euthanasia, doctor assisted suicide, reproductive and genetic technologies, cloning, infanticide, eugenics, population control, and threats to the family", decided to form their own political party and run candidates for the provincial legislature. Their Family Coalition Party of Ontario - later the New Reform Party of Ontario - planned to focus exclusively on these issues in elections, with none of the compromises seen in the coalition-driven three major Canadian parties, whose names I have not bothered to look up for this piece. An editorial in The Interim, a Canadian right-wing "Life and Family Issues Newspaper" which runs pieces by Campaign Life Coalition members, celebrated the formation of the new party, while anticipating some massive changes in Canada's political discourse and a coming wave election:
"Five years ago, when the Pro-life Party of Canada attempted to get off the ground, pro-lifers were so entrenched in support of the three mainline parties that the new party failed to gain enough support. As more pro-lifers become disturbed by the anti-family policies of the Liberal and Conservatives, more of them will chose [sic] the positive pro-family alternative. This change in voting patterns and the positive response to the new party are significant trends, even though they have not yet been noticed by the media which is usually hungry to spot changing patterns. We have no hesitation in predicting that abortion will be the issue in the next Ontario election and the record of all three parties speaks for itself. [emphasis sic]"
I am not an expert in Canadian politics, and in fact do not understand them at all, and in fact am not convinced that Canadian politics are not entirely pretend. But I have to assume that any measure of the FCP's success would have to take into account whether they seated any members in the legislature after this election, and of the 36 candidates who ran, zero were seated. It didn't help that the FCP collected only 1.3% of the popular vote. Counter to their prediction, abortion was not the defining issue of the election, and voters did not defect from the major parties en masse to support the FCP.
But, in the FCP's defense, this was their first go at it, they had formed their party very shortly before the election, and with more time to learn from the '87 campaign and refine their messaging and tactics, they would surely see a massive wave election in the near future. That's what they thought in 1990, when the next elections were called. As they put it in The Interim:
"Policies were hammered out; a party headquarters was maintained; a handful of faithful workers, including leader Don Pennell, preserved in their goal of weaning away pro-lifers form support of pro-abortion parties at the polls and of giving despairing voters an alternative to the anti-life parties...While some active pro-lifers join other political parties, within a short time they tend to sink into the swamp of anti-life sentiments which dominate the current climate of opinion...This time the Party is contesting over 60 ridings. Says FCP Scarborough West candidate Stefan Slovak, "I couldn't bear the thought of once again betraying the values most precious to me by casting a vote for one of the three old parties. Can you?""
1990 was going to be it. The FCP would not only be victorious, but voters would consider voting for anyone else unbearable. In yet another dispatch on The Interim, the FCP wrote that "Unlike the other parties, [FCP] continues the traditional belief that a society without God-given standards ends in chaos. We feel sorry for voters in those ridings who do not have an FCP candidate to vote for." Presumably they pronounced it "sore-y".
As it turned out, 1990 was the most successful election the FCP would ever have. Unfortunately, they topped out at 2.7% of the popular vote, still not enough to seat any of their candidates. By way of comparison, when Gary Johnson ran for U.S. president in 2016 on the Libertarian party ticket, in a country with no support or infrastructure for third-party candidates, and after embarrassing himself multiple times on the national stage with his complete ignorance of foreign policy, he got 3.3% of the popular vote. 
In each of the following six provincial elections, before the party was eventually decertified, the FCP somehow managed to do worse than that still; they got less than one-tenth of one percent of the popular vote in 2015, probably because they could only find six people willing to run under their banner. In each of the Ontario elections, there would be new messaging around how the party had rebranded, found better candidates, written a new "contract with Ontario", had built a municipal election strategy, had revised their tactics, was going to shock everyone this time. They were either talking a big game or legitimately that incompetent, and in eight elections they never seated a single legislator.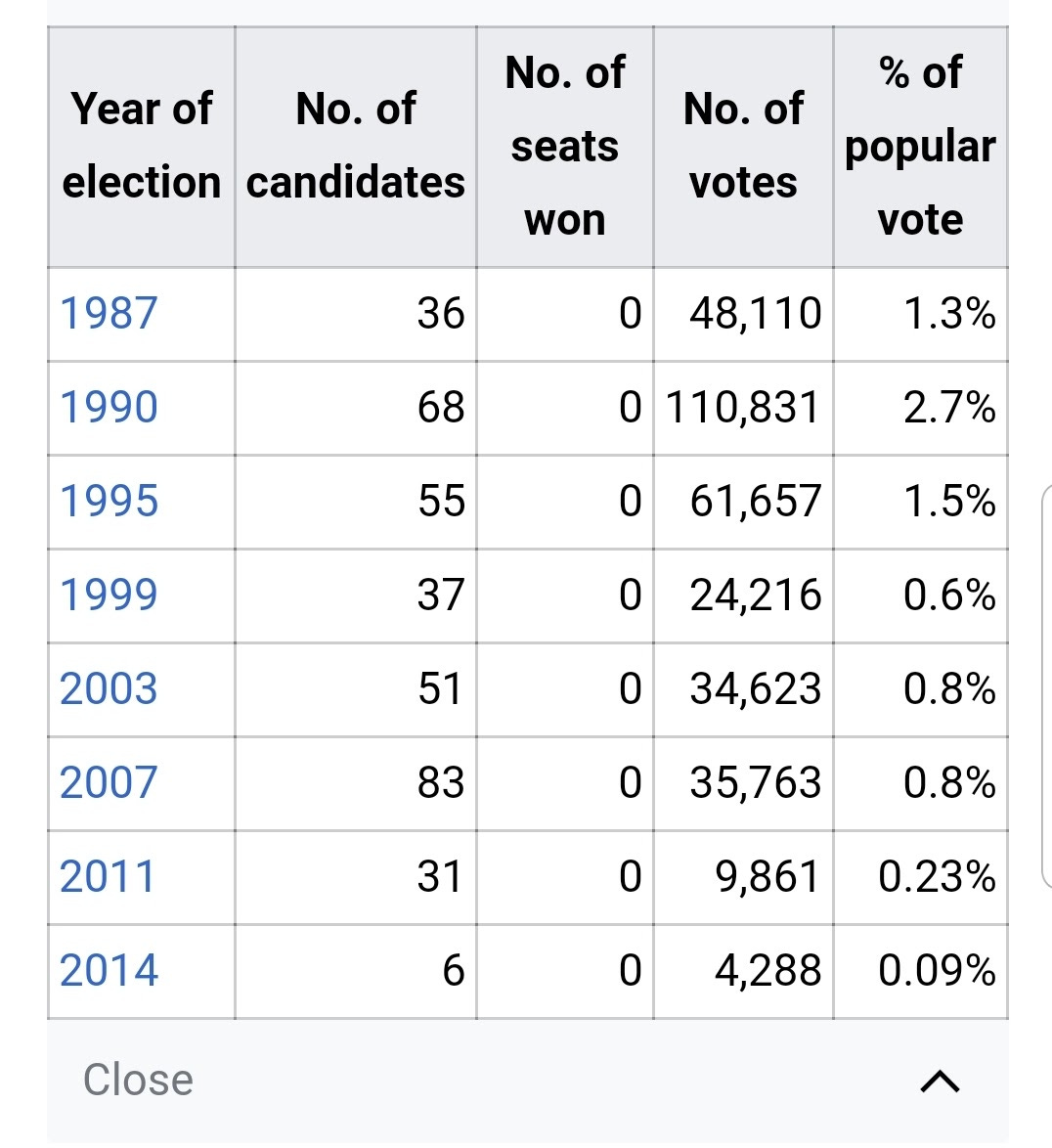 There's a lesson here. We see it in American elections all the time as well: anti-abortion voters can put you over the top, but they're not enough, by themselves, to build an ongoing electoral project. The Campaign Life Coalition and the FCP are definitely right-wing: the life issues they focus on are all about imposing restrictions on women, the sick, and queer people, and you won't find anything in their platform on, say, expanding healthcare or ending capital punishment. But remember that these guys are Canadians, which means they don't have capital punishment and they already have a single-payer healthcare system. Their political landscape doesn't include anything as extreme as the American Republican party, which is aggressively and blatantly trying to claw care and resources away from anyone who isn't rich and white, in the name of profit. It's almost like the Coalition's message would be better received by an extremely online American media audience than a Canadian electorate. 
Put another way: the Coalition couldn't win over politicians with their message, so they tried to be politicians and win over voters. They also couldn't win over voters with their message. So one of those politicians created a website to try and win over insane reactionary extremely online Americans. And that website ended up becoming the Coalition's lasting legacy.
CHAPTER TWO - COOL HAND LUKE OVER HERE
"The anti-abortion website LifeSite published astory containing a headline that said the CEO of the biotech company StemExpress admitted in court to "selling beating baby hearts, intact baby heads." That headline was not only false, but it presented a security risk to a witness in a criminal trial, according to areport from an investigator with the California state Department of Justice."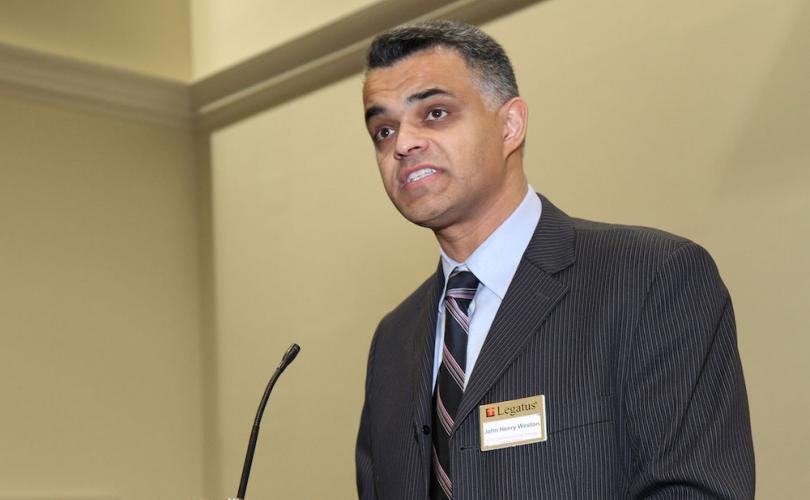 One of the board members of the Campaign Life Coalition, as well as a three-time legislative candidate for the FCP, was John-Henry Westen, a devout Catholic with a compelling life story, as he had turned around his former life of crime into a new life in Christ. However, he is still Canadian, so when he says "life of crime", he means, as he put it to The Interim, this:
""I had met a friend in university who did stuff that wasn't legal," Westen says. He indulged with his friends, lost his licence through too many speeding tickets and would find himself entangled in the court system after being caught driving without a licence. "I felt my whole life falling apart," he said. "I had graduated from high school young and gone to university early. Now, here I was, 21, I was in trouble with the law and my whole life was going down in the dumps.""
Yeah, so fucking Cool Hand Luke over here found his life going down the tubes because he left his wallet full of loonies and twonies on the counter when he went to Loblaw's to buy some Coffee Crisp bars while blasting the Canadian equivalent of death metal (Shania Twain). Also, the speed limits he broke were all in kilometers. I'm sorry, it's my first Canadian subject, I have to get these all out of my system. 
Anyways. LifeSiteNews is Westen's baby that he carried to term, and has existed in some form since 1997; as he described in a 2016 speech to, of all people, Catholic millionaire group Legatus and original G.O.T.H.S. subject Tom Monaghan, the site has grown into "an international news service with 60 million page views from 30 million users last year alone". Although the website has been around for almost 25 years, the LifeSiteNews as it exists today is really more a product of the mid-to-late 2010s. Nobody was debunking stories at LifeSiteNews in 1997, nobody was using LifeSite to get "the truth about Planned Parenthood", heads of state were not retweeting stories from the site. Westen's earliest bylined blog post on the site is from 2010 and, while it's extremely dumb, it's also innocuous: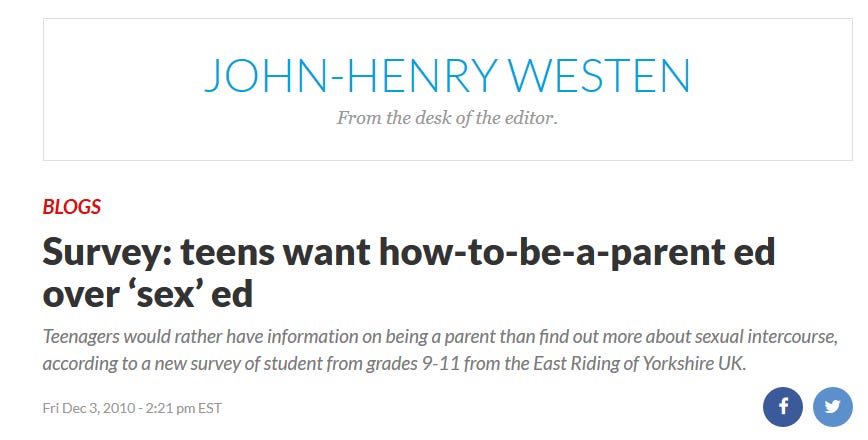 To some extent, it seems like this is just the pet project of a guy who had a very narrow political platform, couldn't win any elections with it, and decided to blog about it in an attempt to stay relevant. Alan Keyes followed a similar career path. But Westen was a little more up front about what he was trying to accomplish in a panel discussion at the 2013 Canadian March for Life (which is like the American March for Life except, again, in kilometers). As Paul Saurette and Kelly Gordon recalled in their 2016 book on the anti-abortion movement:
"Westen...spoke at length about the media conspiracy against the anti-abortion movement. Westen suggested that the media profoundly misleads the public with information it does, and does not, provide. He argued that the only way to get out the truth to members of the movement, and to the broader public, is to find ways to circumvent the mainstream media. This, he argued, was the purpose of LifeSiteNews."
That's not a huge surprise, and that's not something we haven't heard before. This happens all the time with right-wing media: they present the mainstream media as biased, as left-wing, as evil, as fundamentally aligned against their own movement. LSN would eventually use the word "globalist" as a pejorative to describe the media, presumably because Westen is not comfortable saying "Jewish". And while Westen is wrong about almost everything, he is correct that a media outlet choosing what stories to report - and what stories to skip over - is making a political decision. The Canadian media, in Westen's estimation, was not covering anti-abortion activists like the FCP or Campaign Life Coalition. Now, perhaps the media wasn't doing this because there was no real audience that was at all interested in that, and perhaps Westen should have figured that out after personally eating shit in three consecutive elections while his party ate shit in eight. But whatever, he had his stories that he wanted to cover his way and he would find his audience no matter what.
How did Westen want to cover the stories on LifeSiteNews? Well, that was the subject of his second signed blog post, this time from 2014, which is long but worth reprinting as a mission statement that we'll examine over the next six years of content:
"Simply put, the guiding principle for all of our coverage on LifeSiteNews is caritas in veritate – loving in truth. Many of our reports deal with human sexuality, and our wish is to provide the truth regarding the benefits of a life of virtue in line with the plan of God and the harms of acting against the Creator's design.  However, our efforts in this regard are sometimes misread. For example, we publish many stories revealing the harmful effects of promiscuous sex, homosexual acts, pornography, and abortion.  We often serve them up as straight news stories linking to the journals in which the studies are published.  At times we also publish the personal accounts and tragedies of those involved in those harmful behaviours. Unbelievably, some have at times interpreted these news stories and features as though LifeSiteNews is exploiting or even rejoicing in the misfortunes of those involved in these activities. Some have claimed falsely that we publish such stories to sensationalize, to bump up our site traffic, or boost income. The reality is that we report these misfortunes in the hope of sparing others the harm that comes from these behaviours."
While that seems a little defensive, I appreciate the dual assurance that first, all of their stories link to scientific and academic journals thus establishing the accuracy of their reporting, and second, I will not find any stories anywhere on LSN that "exploit or rejoice" in the misfortunes of the poor. It's wonderful to see, and I'm sure that in the next chapter when I look at stories that are currently running on the website, I won't find anything that immediately undermines both of those points. Westen's blog post went on:
"Another major area in which many have misinterpreted our stance is with regard to our coverage of scandals within the Catholic Church. We have taken the same approach – love in truth. We have often found that when exposed through our investigative reports, uncomfortable, unresolved, or problematic situations are more likely to be addressed and resolved. However, unlike most secular media, our reporting carries no animus whatsoever against the Church. In fact we pray and hope for a strong, unified Catholic Church and know the great good that the Church can bring to the world in these very troubled times. Some people have pointed with alarm to LifeSiteNews reports highlighting concerns over some of Pope Francis' statements. They cannot comprehend that such reports could still come from persons of deep faith and could actually be of service to the pope, to the Church, and to the mission of life and family. Beyond that they seem to have somehow missed the numerous reports highlighting the great things the pope has said. We encourage you to read our reports and see in them the intended hope to assist the Church to promote life, family, faith, and authentic culture. The love in truth approach is THE guiding principle for all of our coverage at LifeSiteNews."
Excellent, so when I look at LifeSiteNews, I know that I definitely won't find anything openly homophobic or hateful, and I definitely won't find any articles aimed at polarizing or dividing the Catholic church. With that in mind, let's take a look at what normally runs on LifeSiteNews.
CHAPTER THREE - THE GUY WHO DOES BLACKFACE AND THE GUY WHO SMOKED CRACK
"On 5 December 2018, the pro-life Christian web site LifeSite reported that social media giant Facebook had "censored" an image of Santa Claus kneeling reverently before the baby Jesus because the illustration was deemed 'violent content'...Asserting that the image was "censored" was quite an exaggeration (aside from the fact that Facebook is not a government entity), given that it was neither deleted nor restricted in a way such that ordinary Facebook users could no longer view it."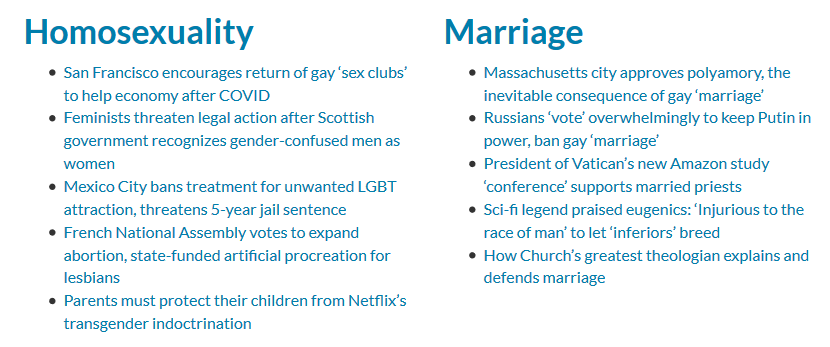 I'm not even really sure where to begin with the stories that LSN regularly carries, partly because you can probably already guess all of them. This is a website that, for lack of a better phrase, you can do entirely in your head. One of the more common stories is a local or state government run by LIBERALS passing some outlandish hedonistic or murderous law that - if you take a second to look it up - doesn't exist, never existed, and sure seems like something an LSN writer just made up or willfully misinterpreted so readers would get angry. And then that story slowly degenerates into straight-up condemnation following truly insane moral logic. Another variant on this type of story, like the "Mexico City Bans Treatment for Unwanted LGBT Attraction" example above, is about a local or state government run by LIBERALS passing some totally normal and reasonable law like banning conversion therapy, that LSN believes to be hedonistic or murderous. Then they follow the same path into straight-up condemnation. And then the other most common genre is a story graphically describing the evil of abortion, but so outlandishly as to put off even the most dedicated conspiracy theorist ("SHOCKING VIDEO: Baby born alive before doctor comes in and aborts it with a gun" is not a real LSN headline, but also not that far off from reality and made me laugh really hard when I thought of it), which then, of course, slides into condemnation of anyone who would even consider supporting something adjacent to this.
Take one of the stories from the screenshot above, "San Francisco Encourages Return of Gay Sex Clubs to Help Economy After COVID", just a headline for the ages. The gist of the piece is that the city was amending its health code to get rid of some of the AIDS-epidemic-era regulations like forcong gay men to have chaperones at nightclubs, but secretly were attempting to hasten San Francisco's slide back into 1980s hedonism. The piece also contains the line "The ordinance also says researchers think monitoring patrons does little to change their behavior. This makes sense. People who go to bathhouses for sex must have exhibitionistic tendencies. Having someone watch is a bonus, not a problem." Because if we're going to talk about gay people, we should also drop in some commentary and their twisted and taboo sexual proclivities for our "news" piece.
There is no conspiracy theory that LSN won't run, no insane COVID misinformation they won't put on the front page, no city council meeting they won't immediately assume is cover for a conspiracy to abort every fetus in the world, no large group of people they won't assume are sexual deviants, no borderline-fascist ideologue they won't give oxygen to. Unfortunately for comedic purposes, they don't have the same balls-out creative cruelty you can find at Church Militant: in June of this year, CM called Wilton Gregory, the Black Archbishop of Washington, the "African Queen" in response to his criticizing Trump, which is horrifying but definitely original, and then they defended that choice by explaining that there was once a movie called The African Queen, as though the backlash on their racist and homophobic name-calling was just due to people not getting the film reference.
Instead of whatever that was, LSN tends to just 'yes-and' bullshit that started on other corners of the internet. They were one of the first outlets to run with the Center For Medical Progress' doctored videos from 2015 alleging that Planned Parenthood was involved in trafficking infant organs for profit; CMP was under a court injunction and prevented from sharing their videos, but leaked them to LSN and other outlets to get around the injunction. CMP has since been ordered to pay millions in damages for, you know, making a bunch of shit up. On issues of LGBT rights, advocacy and media watchdog groups have described the website as "as an extended communications shop for extreme anti-LGBTQ groups...Representatives from groups like Family Research Council, Liberty Counsel, and Alliance Defending Freedom regularly give LifeSite exclusive quotes, and the outlet reliably updates its audience on these groups' work combating LGBTQ equality while adopting skewed, anti-LGBTQ framing for its content." The endless pieces on the website don't even really deserve further analysis. If you've read one piece of LifeSiteNews, ever, you have a very good handle on what the site is about.
As for Westen, we know that he personally critiques the Catholic church and the hierarchy from a place of love, so I'm sure if I start running through the headlines of his personal LSN blog in chronological order I will not find more and more articles increasingly critical of Pope Francis, rapidly spiraling into hysterically accusing the Pope of heresy: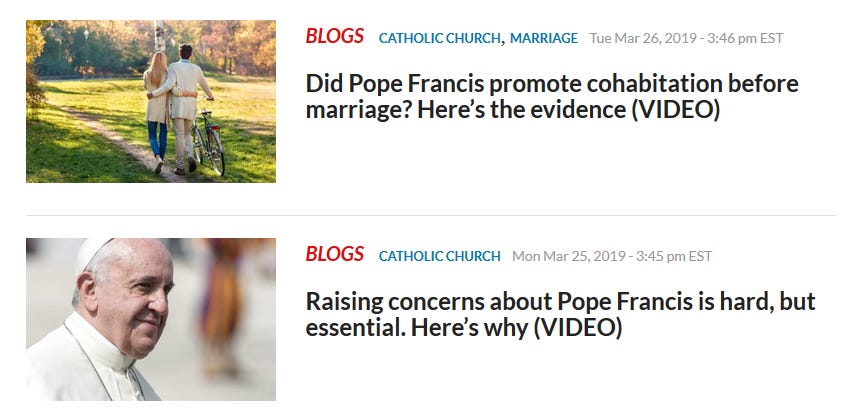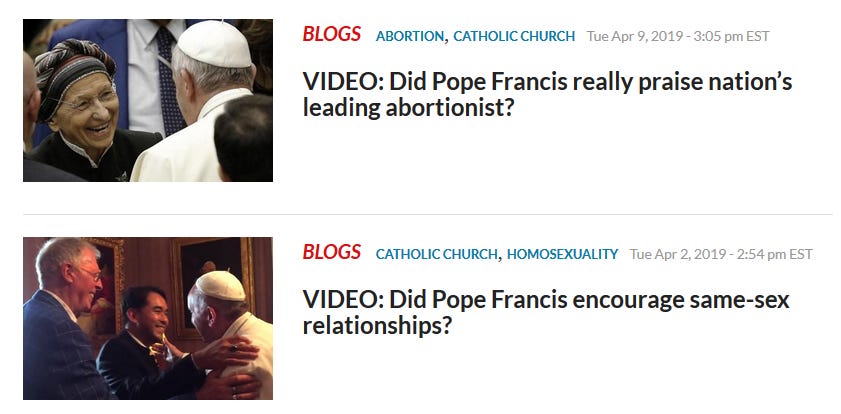 Glad we could clear that up. In all seriousness, as I said earlier, deciding what to cover and what not to cover, deciding who you're going to quote and give a voice to in your stories on your popular platform, is a political decision. And LSN decides every day, in addition to giving oxygen to homophobes and bigots, to give a voice to the priests and bishops who think Pope Francis is actually a heretic hell-bent on destroying the Catholic church and turning it into an instrument of whatever pagan pantheon of gods he actually worships. As we'll see later, they're currently giving a lot of oxygen to one of the Pope's all-time biggest critics.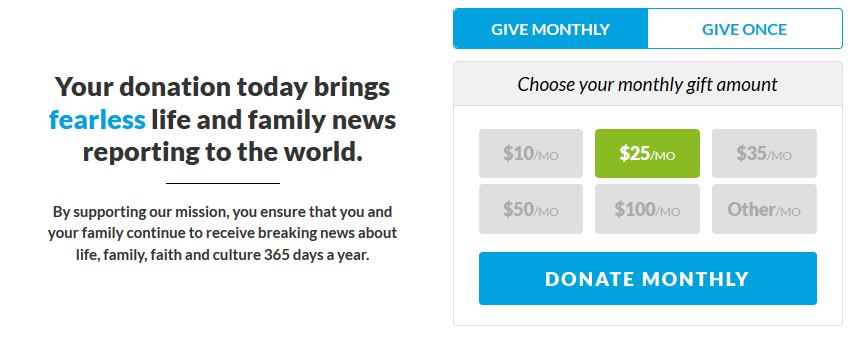 One world leader that LSN is a big fan of, however, is Donald Trump, the seventh-most qualified man for the presidency out of the cast of Home Alone 2: Lost in New York. And look, there were Catholic voters in 2016 who felt icky voting for Trump, but held their noses and did it because they felt that was the right option on the abortion issue. They were dead fucking wrong, but you can almost understand their thought process. Westen and LSN don't follow even that thought process, and in fact reject the idea that Trump - the guy who put children in concentration camps, ignored a pandemic, restarted federal executions, campaigned on torturing enemy combatants, sent secret police into Portland to disappear protestors, seems to be friends with Ghislane Maxwell, you know what I probably don't need to list every single thing here - has done anything that could be considered harmful to the "pro-life" movement, or really wrong at all, if you think about it.
I'm not sure why Westen's website is such a big fan of Trump, or pays such close attention to the Catholic church and politics in America, given that Westen himself is BIPOC (Bigoted Idiot Person Of Canada). I actually pay attention to all of this stupid bullshit in the Catholic church, I can't name a single Canadian bishop, and I can maybe name two Canadian politicians: "the guy who does blackface" and "the guy who smoked crack". Maybe Westen saw an opportunity in the self-destructive polarization of our political, media, and religious landscapes, polarization that wasn't as far along in his native country. I don't know for sure. But if he did see that polarization, he is continuing to exploit it today, explicitly imploring Catholics to re-elect Trump in 2020 and bringing some of the finest minds in American Catholicism onto his LSN video channel to make their cases. I'm kidding, he brought on Katholic Karate Kop instead:
"Romero's newest book, "A Catholic Vote for Trump: The Only Choice in 2020 for Republicans, Democrats, and Independents Alike," is available for sale by TAN Books. A retired Los Angelus [sic, I guess?] deputy sheriff who has spent years doing boxing and karate, Romero is a passionate Catholic apologist who fell in love with the faith while spending time with the charismatic movement in the 1980s..."The fact of the matter is you can see there's been an evolution of thought in this man's life and an evolution of his interior life, as well as by the enemies he keeps...witches, Satanists, Planned Parenthood, communists, socialists, Islamic terrorists, anarchists…everybody that hates President Donald Trump hates Jesus Christ and hates the Catholic Church. I see him as a kind of parallel of the Emperor Constantine," he said."
Why is it always Constantine with these guys, and why do none of them ask "hey, what happened after Constantine?" Another one of Westen's recent guests, in a video entitled "The Long List of President Trump's Pro-Life Accomplishments", was Fr. Frank Pavone. Maybe you've heard his name before if you follow politics closely; he's not an especially complex figure in Catholicism, and if I were writing him as a character in a screenplay, I might not even give him a name and just go with 'Priest Who Loves Trump'. He wrote the foreword to Abby Johnson's book, and he was a campaign surrogate in the Catholics For Trump organization, but has since stepped down from that organization after his bishop told him to, and assured Westen:
"[Pavone's] message of preaching the Gospel has always been the same and that Trump has simply been doing things that coincide with the Church's moral teachings.He also pointed out to me that the Democratic Party is againt [sic] the freedom of the Church and her right to religious liberty. It is also uncompromisingly in favor of abortion without restriction. How can the Church be neutral in the face of such opposition to her mission? he asked. "If we didn't see a party identifying itself with evil, then maybe we could be more neutral.""
At this point, if you look at the world and see the Republican Party as the clear moral good supporting the mission of the Catholic church, you are either intentionally trolling or down to your two last firing brain cells, and I don't really care which one it is. Honestly, watching Pavone not only justify, but proudly proclaim his support for Trump is infuriating and doesn't deserve your attention. What is more deserving of your attention is the fact that LSN tends to make a lot of their stories up, and in recent years actual reporting outlets have started to call them on their bullshit.
CHAPTER FOUR - A KNOWN PURVEYOR OF MISLEADING INFORMATION
"The claim that Girl Scout Cookie sales fund Planned Parenthood became popular in mid-2015 and early 2016, likely due in part to a series of questionable viral videos targeting the latter organization circulated in the summer of 2015. However, the rumor had previously spread widely in 2012, after Fox News reprinted a (since-deleted) opinion piece from LifeSiteNews...We contacted the Girl Scouts of the USA (GSUSA) to determine whether any portion of the rumor was true. They responded to say that no proceeds have ever been donated from the sale of Girl Scout Cookies to Planned Parenthood. The Girl Scout Cookies section of the Girl Scouts website's FAQ declares that all revenue raised from cookie sales goes to the local Girl Scout councils and troops, not outside organizations."
LifeSiteNews was ramping up in popularity and unhinged content in the 2010s, which meant they were also subject to increased scrutiny from media criticism outlets who tended to check on things like whether your stories are made up. Nonprofit fact-checker Snopes describes LSN as a "known purveyor of misleading information", and you can see some of their funnier debunkings of LSN stories in the chapter epigraphs in this piece. A lot of the Snopes stories focused on the more widely-shared LSN stories, which tend to fall into the category of "dumb culture war garbage", like the example above on where your Girl Scout cookie money goes (buy Girl Scout cookies, folks, they're delicious and union-made).
Media Matters For America has also dug through LSN stories to highlight the misinformation and sensationalist scare tactics that the outlet uses all of the time in its "reporting". The first instance of MMFA looking into LSN came in 2011, on an exaggerated story about an abortion procedure gone wrong. LSN wasn't the focus of the MMFA piece, because they weren't the first to publish the abortion story; instead, they picked up the story from Glenn Beck's The Blaze, which was the subject of most of the MMFA analysis.
MMFA didn't write about anything on LifeSiteNews again until 2017, both in a larger piece about right-wing media attacking Teen Vogue - a former teen fluff magazine turned militant anarchist labor journal - and then in a hilarious piece about LSN's petition to "Tell Disney 'NO' to LGBT Agenda in Beauty and the Beast". If you can remember all the way back to three years ago, the live-action remake of Beauty and the Beast - which sucked - reportedly contained a character who would be exploring his sexuality. The actual scene in the film - which also sucked - was about half a second long, involved Josh Gad bumping into another man by accident, and was almost certainly cut for the film's release in foreign markets. But according to LSN, readers had to "send a strong message to Disney that children's entertainment is no place to promote a harmful sexual political agenda. Sign the boycott petition." This one doesn't strike me as anything other than LSN pushing to get more emails so they have places to go for fundraising and advertising; hell, as MMFA points out, they hit up their mailing list for money all the time, playing up how censored they are by Globalist [mouths the word 'Jewish'] Big Tech without providing any evidence:
"LifeSite News [sic, although I've seen it stylized both ways] also asked for donations in light of supposed censorship by social media companies. The site posted in March 2018 about the "surprising and disturbing reason why LifeSite's Spring campaign is struggling." The reason, according to LifeSite News, "is an almost declared war by the globalist social media giants – Facebook, Google, Twitter and YouTube against websites, blogs and individuals who promote conservative views." LifeSite argued that its inability to raise funds was due to censorship from Facebook and Google and pleaded to readers, writing, "To those of you who were not blocked from reading this letter, we are depending on you much more than normal to help us to reach our goal." Unsurprisingly, the outlet provided zero evidence of the censorship it was allegedly experiencing."
When you get to the point where MMFA is throwing in "unsurprisingly"s into their pieces about your bullshit, you've really made it as a right-wing media outlet. As a side note, I will say that in fairness to LSN, they had far from the most appalling reaction to Beauty and the Beast in right-wing media, as the MMFA piece also referenced the response from neo-Nazi website The Daily Stormer.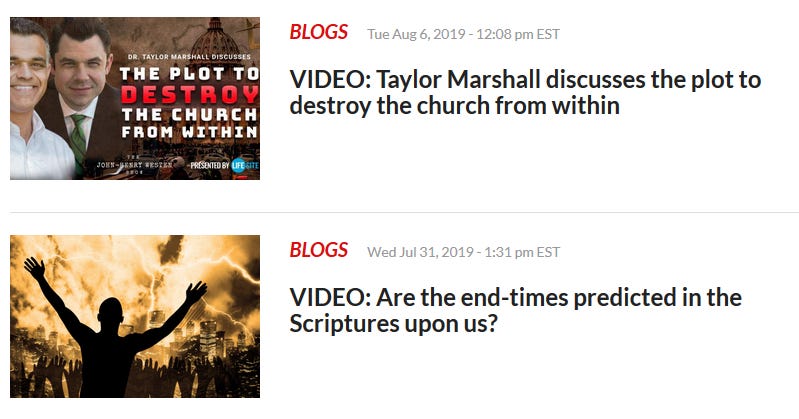 As we know, LSN doesn't just cover stupid culture war bullshit, they also cover Catholic church politics. In practice, this means that they aggressively plug the "infiltration" conspiracy theory currently being popularized by American writers like Taylor Marshall, whom LSN has taken a protective interest in since he is now (sighs heavily) officially part of the Catholics For Trump reelection effort. Westen even blurbed Marshall's Infiltration, writing:
"Riveting. What an incredible work of brilliance and generosity. Many scholars give in to the temptation to showcase brilliance by leaving concepts obscure. Marshall has synthesized historical and philosophical thought simply and succinctly making it accessible to all. What a treasure for the faithful. My highlighter ran dry after only half-way through."
Snopes and MMFA may consider this conspiracy theory - you know, the one where gay communist freemasons took over the church from the inside and did evil things to weaken Christendom like make Vatican II happen and install Pope Francis - outside of their particular areas of expertise, but if you ever are curious, just know that I already read Marshall's book earlier this year, and it's dumb and boring. The whole "infiltration" storyline is built on specious arguments and ignores glaringly obvious parts of world history, the theory itself is actually not that original since you can find other dumb people propagating it in the early 2000s, Marshall's own career history strongly suggests that he just wrote the book as a cash grab, and it's served mainly to drive old people, including clergy, insane.
In a way, the conspiracy theory detailing infiltration of the Catholic church works similarly to the QAnon conspiracy theory in the political world: even a cursory examination of either one reveals that it's absurd, but it's also a convenient explanation for why things don't seem to be going the way conservatives want, and it's a convenient explanation for why the church you've given your life to doesn't seem to be as unified or as powerful anymore, and of course it's an easy way for grifters to make money selling books and racking up YouTube views. I bring up this comparison because LSN, of course, also buys into the actual QAnon theory. Yes, that one, the one from 8Chan. The one where Donald Trump, helped by Robert Muller who is actually on Donald Trump's side, and also by JFK Jr. who is apparently still alive but in disguise, is leading a secret campaign to bust up the satanic child sex trafficking/human sacrifice ring that Hillary Clinton runs and restore moral order to the government.
The story of how QAnon ended up on LSN requires a little bit of explanation. Operation Rescue - Randall Terry's old anti-abortion organization that was smart enough to disown Randall Terry but dumb enough to spend all day on 8Chan - originally had dismissed QAnon as a hack conspiracy theory, but really changed their tune in January 2018. Operation Rescue's official Twitter account, as well as the account of its VP Cheryl Sullenger, started getting way into Q memes and hashtags, and took a special interest in two news stories that surfaced around this time. The first was that Planned Parenthood head Cecile Richards was leaving the organization, and the second was the "Nunes Memo", one of the dumber news stories from one of our dumber Congressmen, which would allegedly reveal that outgoing president Obama had paid for the Fusion GPS oppo research on the Trump campaign and eventually ordered an illegal wiretap on incoming president Trump, in order to stop Trump from breaking up his child sex ring. Operation Rescue shook this all up in a weird cocktail that also called back to those doctored Planned Parenthood videos they were plugging in 2015, and came to what they thought was the only logical conclusion: Planned Parenthood was part of Obama's evil satanist child sex ring, and their leadership would eventually be arrested by Q, Trump, and Mueller. And, I guess, JFK Jr.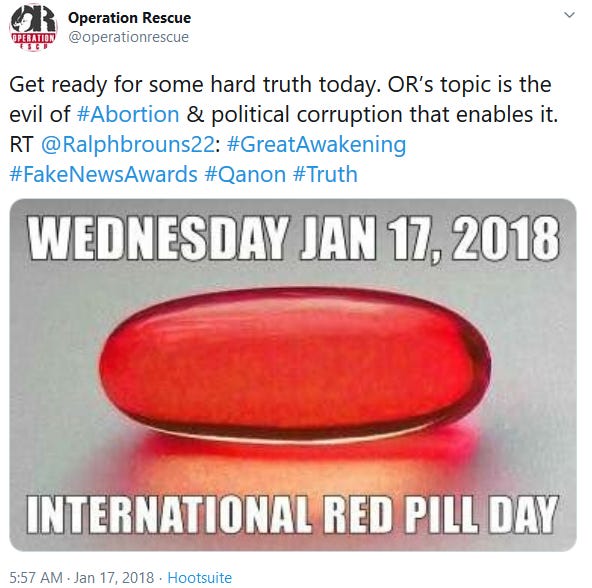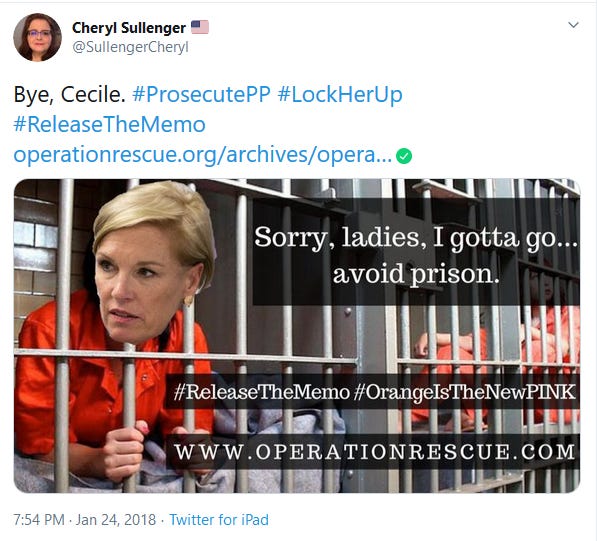 All of this led to LSN running a story titled "The Trump/Russia Memo Has a Surprising Connection to Planned Parenthood", in which this known purveyor of misleading information took all of the dumb memes that Operation Rescue had tweeted out and just fucking ran with them:
"Could it be that Richards has closer ties to those implicated in the Nunes memo for using the fake Russian Dossier to illegally obtain FISA warrants in order to spy on the Trump administration? What if Richards recommended Fusion GPS to Clinton Campaign/DNC because she knew from first-had experience that organization could fake a dossier against Trump to discredit him and influence the election? Would that qualify as a conspiracy?...It seems that Richard's sudden resignation and the Nunes memo may have more in common than anyone thought. The FISA warrant scandal and the Planned Parenthood baby parts scandal seem to share many working parts. Now, the investigations into the Clinton/DNC/DOJ/FBI corruption scandal take on new meaning for those who work every day to end abortion."
Westen wrote in 2014 that the guiding principle of his news site was "caritas in veritate", and while it's been a while since high school Latin, I don't think you can draw a straight line from that phrase to just openly publishing unproven conspiracy theories from fucking 8Chan, going "dam makes u think tho", and calling yourself a source of unbiased and truthful reporting. In retrospect, as the QAnon movement turns increasingly violent and permeates more of mainstream society, this looks even worse.
But the takeaway from all of these stories is this: LSN is just straight-up bullshit, pretty much all of the time. They exist to raise money and get clicks. The correct response of Catholics, under normal circumstances, would be to ignore the website completely. But, of course, we're not in normal circumstances.
CHAPTER FIVE - DAN BROWN'S "THE VIGANO CODE"
On June 10th of this year, the goddamn President of the goddamn United States tweeted out his first LifeSiteNews link, which was an open letter from Archbishop and former Apostolic Nuncio to the United States (the rough equivalent of a Vatican Ambassador) Carlos Maria Vigano. Most of that letter is the same stupid old man shit and apocalyptic imagery that you can find in other right-wing corners of the Internet, but the letter is notable for one thing that it alleges: that a "deep church" of evil bishops and priests are working, much like the "deep state" in Donald Trump's Q-protected government, to try and destroy the country, and Donald Trump's moral leadership is the only thing standing between them and victory:
"And it appears that the children of darkness – whom we may easily identify with the deep state which you wisely oppose and which is fiercely waging war against you in these days – have decided to show their cards, so to speak, by now revealing their plans...There are faithful Shepherds who care for the flock of Christ, but there are also mercenary infidels who seek to scatter the flock and hand the sheep over to be devoured by ravenous wolves. It is not surprising that these mercenaries are allies of the children of darkness and hate the children of light: just as there is a deep state, there is also a deep church that betrays its duties and forswears its proper commitments before God."
Vigano fully buys into the whole masonic infiltration thing - he blurbed Marshall's book back in 2019 - and basically has for several years. He published another open letter in 2018 laying the McCarrick sexual abuse scandal at the feet of Pope Francis, tends to blame pretty much everything he doesn't like on Pope Francis, and is "in hiding" in Italy, claiming that he's worried that some sort of advance guard of octogenarian cardinals is going to carry out a hit on him. Based on his track record as an Archbishop and Nuncio, Vigano doesn't seem like an especially fun dude to be around. It appears that he was involved in destroying evidence related to sexual abuse in the Minneapolis-St. Paul Archdiocese, he arranged for anti-gay-marriage county clerk Kim Davis to meet with Pope Francis without telling the Pope who she was - which, come the fuck on, Kim Davis isn't even Catholic, the Pope gave her a rosary and she probably thought it was one of those motion sickness bracelets - he has a tendency to add signatures to his open letters from clergy who never signed on to Vigano's words, he opposes any public health measures to curb the spread of COVID as too dangerous to religious freedom, and there's a case to be made that Vigano's had it out for Pope Francis for years because Francis never promoted him to Cardinal.
LifeSiteNews and Westen, of course, love this guy. When Vigano published his 2018 open letter accusing the Pope of being directly involved in the McCarrick scandal - an allegation severely undercut by the actual reporting we've seen so far - LSN ran the headline "Vigano Opens New Chapter in Church History":
"The dam has broken. For years, LifeSiteNews has been cataloguing the calamity to the Church being caused by Pope Francis and his allies in the Vatican. But with the 11-page testimony of former U.S. nuncio Archbishop Carlo Maria Viganò, a new chapter in the history of the Catholic Church has opened. Heretofore, criticisms of Pope Francis by his brother bishops have been extremely timid and few and far between, despite grave abuses of the faith which have veritably destroyed orthodoxy in the Church. But the silence has been broken. Knowing the nuncio, that statement is not surprising, for he lives life as a preparation for heaven."
If, somehow, that wasn't fulsome enough praise for you, Westen also gave a speech in 2019 when he accepted an award on Vigano's behalf, published on LSN under the headline "Archbishop Vigano Exemplifies What It Means to Be Catholic Today". He also passed along words from the Archbishop himself, who by this point was fully leaning into calling out the evil of our Communist Mason Pagan Possibly Gay Pope at the Amazon Synod:
"You yourselves are well aware of the aberrant and sacrilegious pagan rites that took place not only in the Vatican gardens, but in the Basilica of St. Peter, the center of Christianity, where the tomb of the blessed Apostle Peter is kept. Bishops and cardinals and even the one who more than any other would have had to protect the Bride of Christ from the attacks of the Devil have been responsible for abominable acts of profanation and apostasy."
Vigano here is referring to the Amazon Synod, which, like most things from the global South including Pope Francis himself, hard-right Catholics can only process as some sort of coded pagan ritual. Look, it's all just a crock of shit, right? We know LSN will just write or publish whatever they want that gets outrage clicks and helps with fundraising. We know that Westen couldn't find an audience in Canadian politics, but he could find one on the Internet, and he could find one in reactionary American circles up to and including the fucking President, and he could find a pretty steady revenue stream there as long as he just kept kicking up outrage. A lot of things in life are complicated; breaking into lucrative right-wing media because you couldn't win an election is not. 
All of that said, the President of the United States sharing a piece saying that the bishops who support him are "good" and the bishops who don't are "evil" is - to make a bold statement - probably not great for the Catholic church long-term. But I also feel very confident in saying that Trump doesn't remember that letter today, possibly didn't read it when it first came out, and probably just shared it because he's trying to make an electoral case to Catholic voters and this is the highest-ranking prelate he can find that likes him. So can we just ignore this one?
We kind of can't. Because it's starting to reach the parishes. When Vigano wrote his first screed in 2018, several bishops across the country wrote letters of support. Parishes in Arizona, New York, Texas, and Wisconsin - would anyone like to guess which parish in Wisconsin? - shared Vigano's 2020 letter to Trump as official parish communication, either through their parishes' social media channels or in the actual bulletins. One example from New York is below: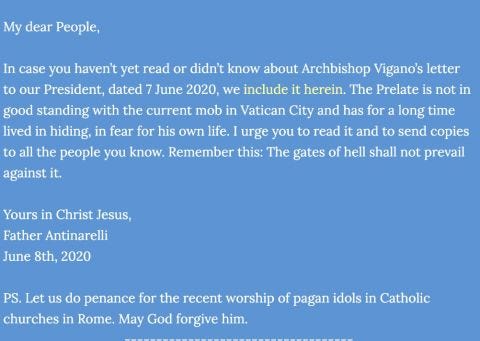 Look, we've all gotten a lot more familiar with the right-wing media landscape in the past few years. We knew about Fox News and how it sucked, but in recent years more reporting has run in mainstream outlets to explain the more extreme neighborhoods in reactionary media. We had to learn what Breitbart was, and what One America News was, and hell, even what Church Militant was - yeah! It got a writeup in the New York Times in 2016! - because that is what the people who run the federal government are reading and watching. LifeSiteNews is the one your pastor is reading and watching. It's a website that a political candidate started because he was trying to make his constituents care more about abortion after his own failure to convince them in a local election. Catholic clergy continued to amplify stories from the site, even as it ramped up borderline-schismatic criticism of the Pope and literal actual QAnon rantings. And now we're here, the President of the United States is sharing pieces about which bishops are loyal to him, people are committing acts of violence in the name of "saving the children", and now our pastors and bishops should ask themselves if this is the outcome they had in mind when they signed petitions or shared stories from the guy who couldn't couldn't hack it in the Ottawa elections.
EPILOGUE - DO THEY WANT TO WIN?
At the beginning of this series, I referenced the song lyric "You can't win, you can't break even, you can't get out of the game" to describe the church's relationship with the anti-abortion movement. 
Alan Keyes demonstrated that you can't win: building a campaign around Catholic sexual morality gets you laughed out of six different federal elections, and when you do put a restrictive policy in place, it ends up doing the opposite of what you intended. 
Abby Johnson shows us that you can't break even: she dove into the anti-abortion movement hoping to change it to something more compassionate, honest, and holistic, and instead her allies changed her into the same cruel authoritarian type that we've seen in the worst corners of the movement. 
Westen and LifeSiteNews show us that you can't get out of the game: right-wing media won't let you, and now they're starting to pick which bishops are good and which are not. You try to sit the fight out, or you try to speak out against a toxic media environment, and you're branded as a traitor to the church by an angry website and their sundowning readers.
All three of these examples are held up and praised by American bishops - who are the only voices in the church that matter, according to American bishops - as fearless fighters in the most important battle of our time. I have spent a lot of energy - like, I expect, many lefter-leaning Catholics - wondering why the bishops would give up so much of their integrity, so much from vulnerable people, to win this one fight over abortion, and whether it would be worth it if they won.
But as I said at the beginning of the series, researching these pieces led me to change my question from "is it worth it if they win?" to "what if they can't win?" And now, at the end of this series, my question has changed again, this time to "do they want to win?" 
The church's actions, and the actions of the people they vocally support, are not the actions of a body trying to actually end abortion. People trying to end abortion try to convince their audience with actual accurate information, not bullshit that idiots found on a message board and passed along to some angry dude in Ontario. People trying to end abortion assess what results they're getting and change their tactics if they don't work; they certainly don't keep doubling down on a policy designed by a bleach salesman, that every person with any level of medical expertise will say doesn't work. And people trying to end abortion acknowledge the other related issues and try to navigate the best ways to address all of them, as opposed to actively urging people to die in a pandemic or submit to fascist secret police. And they probably wouldn't be openly supporting an authoritarian political party and president.
If the bishops don't want to win the fight, why the hell are they telling me it's the only thing I should care about, even to the point of ignoring everything else? Why are they telling me this is the problem they have to solve first, and then spending all of their time making that problem worse and more polarized? That the bishops are sacrificing everything and everyone else in the church to try to end abortion is disheartening enough, but what if they're not trying to end abortion? What if they're doing all of this because they just like telling people what to do? What if the results don't matter to them? What if they look at today's world and go "eh, whatever, let's keep doing our thing"?
Maybe I'm making too many assumptions here, but we're way past the point of assuming good faith on the part of any Catholic bishop. We're living under an authoritarian, borderline-fascist administration, looking to boost their Catholic cred to stay in power, even as events kept making it clear that they had no business being in power, and they're not doing anything different than what the bishops are doing now, than what these three Catholic subjects are doing right now.
There is, at least on paper, a federal election this year. There are, regardless of the election, other critical fights that Catholics need to fight. There will be a lot of noise from activists, from groups that call themselves Catholic even though they're not affiliated with the church, and from the bishops themselves, telling you how to think about these fights, and telling you that abortion comes first, as you watch families get evicted, and children in concentration camps, and overwhelmed hospitals, and federal executions resuming, and clergy getting tear-gassed, and the ongoing mass extinction on our planet. When they flex their authority, you're allowed to ask how they've used that authority in the past. They didn't use it to "protect life", they used it to give us Abby Johnson and Alan Keyes and John-Henry Westen. You're allowed to decide if that's the authority you want to stick with moving forward.
Grift of the Holy Spirit is a series by Tony Ginocchio detailing stories of the weirdest, dumbest, and saddest members of the Catholic church. You can subscribe via Substack to get notified of future installments. This is the final installment in a series on anti-abortion activists in the Catholic church.
Sources used for this piece include:
LifeSiteNews - "Petition Demands that Fr. James Martin…" (2019)
Campaign Life Coalition - "About Us" (2020)
The Interim - "About" (2020)
The Interim - "It's Party Time" (1987)
The Interim - "Ontario Provincial Election '90" (1990)
The Interim - "The FCP and No One Else" (1990)
The Interim - "FCP Maps Path to Success" (2008)
The Interim - "Virtue of Who You Are, Vote Pro-Life (2020)
The Interim - "John-Henry Westen - From Indifferent Atheist to Pro-Life News Provider" (2008)
Paul Saurette and Kelly Gordon, The Changing Voice of the Anti-Abortion Movement (2016)
LifeSiteNews - "Caritas in Veritate: What We Do Here at LifeSiteNews" (2014)
LifeSiteNews - "A Storm in the Vatican - But There's Great Hope" (2014)
LifeSiteNews - "The Battle for Life and Family is Raging and You Have Been Summoned to the Fight" (2016)
LifeSiteNews - "Trump Is the Best Choice for Catholic Voters in 2020: Catholic Apologist" (2020)
LifeSiteNews - "The Long List of President Trump's Pro-Life Accomplishments" (2020)
Advocate - "Meet LifeSite News…" (2018)
Media Matters for America - "The Right's Latest Attack on Planned Parenthood" (2011)
Media Matters for America - "Right-Wing Media Attack Teen Vogue For Taking on Abortion Stigma" (2017)
Media Matters for America - "Tinker Bell's Torrid Lesbian Affair" (2017)
Media Matters for America - "How a Discredited Anti-Abortion Group…" (2017)
Media Matters for America - "Anti-Abortion Group Operation Rescue Has Become Fully 'Red-Pilled' By an 8Chan Conspiracy Theory" (2018)
LifeSiteNews - "The Trump/Russia Memo Has a Surprising Connection to Planned Parenthood" (2018)
Media Matters for America - "Anti-Abortion Extremists Keep Crying Censorship to Raise Money" (2018)
Reuters - "Conservatives Want Catholic Bishops to Denounce Pope as Heretic" (2019)
National Catholic Register - "Controversial Priest's Lawsuit Against LifeSite News Advances" (2013)
The BC Catholic - "Quebec Priest Sues LifeSite News for Defamation" (2011)
LifeSiteNews - "Archbishop Vigano's Powerful Letter to President Trump" (2020)
LifeSiteNews - "Vigano Opens a New Chapter in Church History" (2018)
LifeSiteNews - "Archbishop Vigano Exemplifies What It Means to Be Catholic Today" (2019)
National Catholic Reporter - "Priests, Parishes Share Vigano's Letter to Trump" (2020)
National Catholic Reporter - "Tweet From Trump Puts Controversial Archbishop Vigano Back In U.S. Politics" (2020)